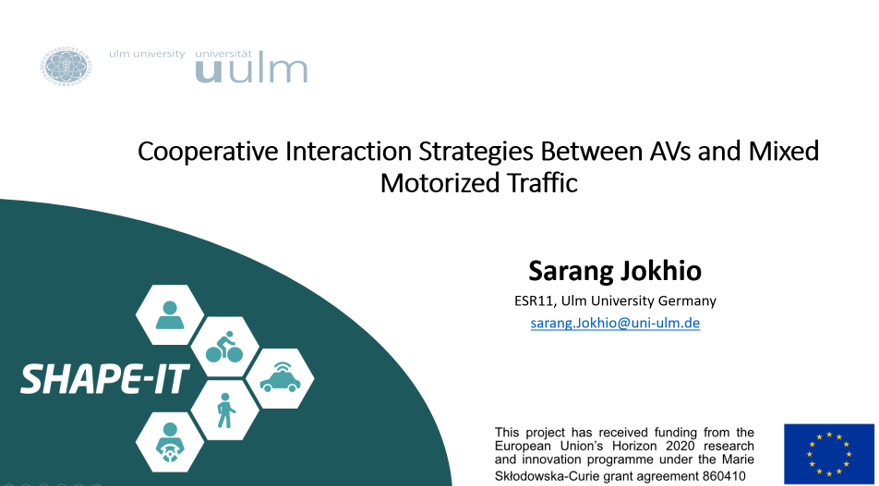 Who am I?
Mr Sarang Jokhio is currently a Marie Curie Early Stage Researcher and a doctoral student at Department of Human Factors, Ulm University Germany. His current research is investigating cooperative interaction strategies between Automated Vehicles and mixed motorized traffic. Before Arriving in Germany, he was a research assistant at Smart Traffic Research Lab at Korea National University of Transportation (KNUT), South Korea. He has Master of Science degree in Transportation System Engineering from KNUT. Mr. Jokhio also holds a Bachelor of Engineering degree in Civil Engineering from Mehran University of Engineering and Technology, Pakistan.
Introduction to Research
The global increase in the vehicular traffic is causing severe problems to safety, mobility and environment. More than 1.2 billion vehicles are driven on the roads daily causing severe congestion and pumping large quantities of greenhouse gases into the atmosphere [1]. In addition to that, according a report of World Health Organization (WHO), about 1.35 million people die each year in road accidents (WHO, 2015). Vulnerable road users (VRUs) account for about 50% of total fatalities. In European Union (EU) statistics have shown that, VRUs account for about 47% of the total fatalities in road accidents (Methorst, Rob, Cardoso, Machata, & Malasek, 2016).

Autonomous Vehicles (AVs) are expected to play an important role in transportation system. With AVs on our roads and streets, we can expect improvement in terms of safety and mobility. AVs are also anticipated to increase comfort level of human drivers by allowing them to spend their time on other tasks such as reading or enjoy the scenery along the roadside. However, the full benefits of AVs cannot be achieved until the driving tasks are fully automated and AVs are available in significant numbers. According to National Highway Traffic Safety Administration (NHTSA), AVs have at least some aspects of a safety-critical control function, occur without direct driver input (NHTSA, 2020). Depending on the type of automation, there are total 6 levels AVs, starting from zero with no automation to five with full automation (SAE, 2014).

It is certainly not possible that all of sudden all vehicles will be fully automated and will be available with 100% penetration. There will be period of transition where AVs will coexist with conventional vehicles on rural roads e.g. motorways (also known as freeways in some countries). In case of urban areas AVs and other non-motorized traffic such as cyclists and pedestrians also called VRUs will coexist forever.
The efficiency of the new technologies depends on their acceptance by end users (Hoogendoorn, Arem, & Hoogendoom, 2014). It is also important that AVs are socially integrated into our society accepted by other road users. In order to achieve this, AVs will have to behave in ways to which we humans are familiar to. One of these behaviours, is driving in cooperative manner. In a cooperative situation at least two agents are involved. Each agent tries to achieve its goals and can interfere with other agent's goals as well. Each agent also tries facilitate common tasks when it exists (Hoc, 2001). However, human drivers convey their intentions through the use of explicit and implicit communication. So, AVs will have to use similar communication strategies that are understood and accepted by the human drivers.
Objectives
The main goal of this research project is to investigate cooperative interaction of drivers in complex urban situations. More specifically, following are the objectives of this research;
a) Analyse the cooperative interaction between human drivers in urban traffic environment through naturalistic driving data.
b) Develop models of cooperation for AVs
c) Simulate and validate AV cooperation models using microscopic traffic simulators.
d) Analyse and test cooperation patterns using state of the art driving simulators.
e) Formulate recommendations for safe, efficient, and cooperative AV behaviour in mixed urban traffic.
Description
A more in-depth description of your research.
Methods
Describe the methods you have used.
Links
Hyperlinks to others.
References
Hoc, J.-M. (2001). Towards a cognitive approach to human–machine cooperation in dynamic situations. International journal of human-computer studies, 509-540.
Hoogendoorn, R., Arem, B. V., & Hoogendoom, S. (2014). Automated driving, traffic flow efficiency, and human factors: Literature review. Transportation Research Record, 2422(1), 113-120.
Methorst, R., Rob, E., Cardoso, J., Machata, K., & Malasek, J. (2016). Single unprotected road user crashes: Europe we have a problem! 1(14), 2297-2305.
NHTSA. (2020). Policy on the Automated Vehicles. Retrieved December 1, 2019, from https://www.nhtsa.gov/staticfiles/rulemaking/pdf/Automated_Vehicles_Policy.pdf
SAE. (2014). Taxonomy and Definitions for Terms Related to On-Road Motor Vehicle Automated Driving Systems. J 3016. SAE International.
WHO. (2015). Global status report on road safety. Geneva: World Health Organization.